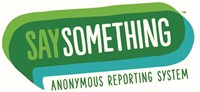 The national nonprofit, Sandy Hook Promise (SHP), developed the Say Something Anonymous Reporting System (SS-ARS). The system allows youth and adults to securely submit anonymous safety concerns – anytime, from anywhere – to help identify and intervene upon at-risk individuals before they hurt themselves or others. The system enables school administrators and law enforcement to create effective interventions and to help prevent violence, suicide, bullying, self-harm and other forms of threatening behavior.
Designed specifically for use by students in grades 6-12, SS-ARS provides three reporting platforms (mobile app, website, 24/7 phone hotline) for users to submit tips – and a crisis center to examine and triage those tips. When credible tips are received, the crisis center will notify school-based representatives, even after hours when tips are life-threatening and require immediate intervention. In cases of imminent threat, the crisis center will contact local 911 dispatch and involve law enforcement.
Say Something Website – www.saysomething.net
Reporting hotline – 1-844-5-SAYNOW (729-669)


Frequently Asked Questions
What is Say Something Anonymous Reporting System (SS-ARS)?
SS-ARS is an anonymous reporting system that lets students, parents, staff and community members securely share safety concerns. It focuses on student and staff safety by:
Training students, teachers, and administrators how to recognize warning signs of someone who may be a threat to themselves or others—including signs on social media.
Providing a way to report concerning behavior, which then helps school administrators and law enforcement members prevent violence, suicide, bullying, self-harm and other dangerous behavior.
Asheboro City Schools (ACS) has been working with the North Carolina Department of Public Instruction as we launch this program in our schools. Every public school in North Carolina will adopt this program by the end of the year.
How does SS-ARS work?
Students and staff can submit an anonymous tip through an app, the website, or a phone call when they notice concerning or threatening behavior. Every submission goes directly to a trained crisis counselor. The counselor then shares the information and next steps with the ACS school team and law enforcement as needed. The team steps in to address the threat. Every ACS high school has a trained SS-ARS response team that includes social workers, counselors and more.
Could you provide an example of how SS-ARS could work?
The SS-ARS can be used to report threatening or harmful behavior, harassment and more. For example, imagine that one student, Lisa, is worried about her friend, Mary, harming herself—like cutting her arms—but Lisa isn't sure who she can tell. Lisa doesn't want to be labeled a "snitch" or for her friend to find out that she said something.
Lisa can anonymously report her concern through the SS-ARS app, website, or through a phone call. The trained crisis counseling team will immediately take action to ensure Mary is safe and getting the right interventions to help her.
What happens to the tip if the individual reporting is threatening to hurt themselves?
The SS-ARS team members are specifically trained to recognize mental illness and emotional disturbances and manage crisis situations. All psychiatric emergencies are referred to the appropriate community mental health services psychiatric crisis line. Law enforcement may conduct a welfare check.
Do I have to use SS-ARS? Does my student?
NO. Using the reporting system is completely voluntary.
Who is running the program?
Say Something is a youth violence program presented by Sandy Hook Promise (SHP), a national nonprofit. SHP was founded and is led by family members who lost loved ones during the Sandy Hook Elementary School tragedy in 2012. SHP has trained more than 11 million educators, parents, community leaders and students to recognize the signs of and prevent violence and harmful acts in schools.
How much are we paying for this program?
The Say Something Anonymous Reporting System was created by a nonprofit and is therefore free for our school district.
What about privacy?
ACS has been working with our school board's legal team to ensure that all key privacy standards are maintained.